Beginning April 4th, 2000, freeware versions of byLight's applications contain the ability to register for a small fee of $19.95 (USD).  Registering the freeware version of your byLight application causes the ads to be removed from your system and also entitles you to free technical support. Removing the ads has two distinct advantages:

·    Less memory requirements.

·    More screen real estate.

Your registration is good for the life of the product you register.  This means you are entitled to all future updates and enhancements without having to pay additional "update" fees.
You can register 20/20 over the Internet or by Email. If you're behind a firewall, you will need to register by Email. Instructions for Email registration can be found here.

Internet registration (Click on the applications menu item: "Help|Remove Ads|Register&") uses byLight Technologies secure registration system. Registering is a three step process:

1). Obtain Pricing Information. The registration software connects to the byLight server and retrieves the current price of the application being registered. The price is then displayed. At this point, you can choose to continue or cancel the registration process. You can use this initial step at any time to check the current price of the application being registered.

2). Enter Personal And Payment Information. All personal and payment information is kept STRICTLY confidential.

3). Send The Information To byLight. The registration software encrypts and then delivers the personal and payment information that you entered byLight.
Here's What It Looks Like
Open 20/20 and click on the menu item Help|Remove Ads|Register...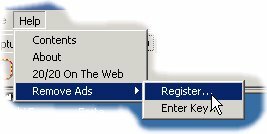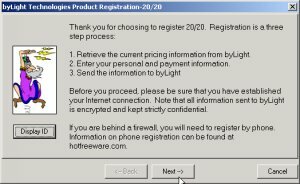 This is the initial screen that appears explaining what is about to happen.
When you click on Next button, the registration server then connects to hotfreeware.com and retrieves the current pricing information.  For 20/20 it will be $19.95.  If the price retrieval is successful, the following screen will appear: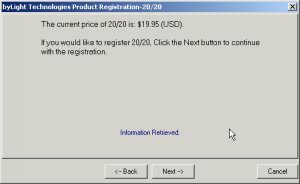 At this point, click the Next button to continue on with the registration.  The personal information screen will then appear: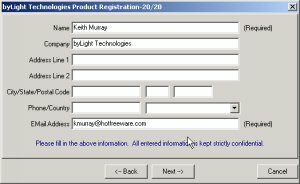 Here you enter your name and address.  The only required fields are Name and EMail Address.  Click Next to enter your payment information: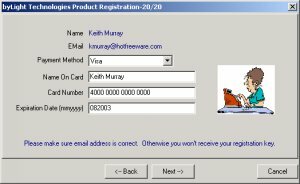 On this screen you enter your credit card information.  Click the next button to review the information that has just been entered: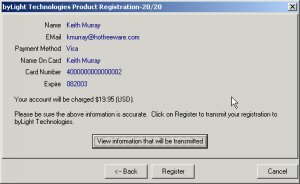 This screen contains the information you previously entered.  It also has a button "View information that will be transmitted" that will allow you to see the encrypted information that will be transmitted to byLight.  If you click this button, you will see something like: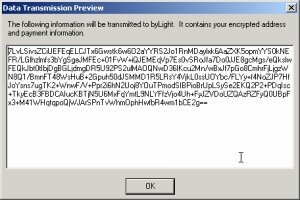 This dialog displays your personal and payment information in its encrypted format.   Click OK to close the dialog, and then click the Register button on the previous screen to transmit your payment information to byLight.  Once your registration information has been successfully transmitted to byLight, you will see a screen like this: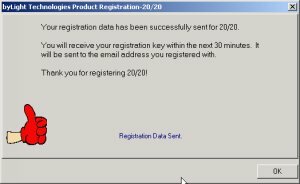 Congratulations you have just registered your copy of 20/20 and will soon be ad free.   If for some reason the registration software is unable to connect to the registration server, a screen indicating so will be displayed and you will be asked to try again later.

Once the information has been sent to byLight, the byLight Registration Server will decrypt the data and then check it for validity. If valid, your application key is generated and then sent to the Email address you entered during the registration process. You will typically receive your key within 15 to 30 minutes of registration (24 hours a day, 7 days a week).
Note that the ONLY information sent to byLight that is not entered by you, is your IP address. This is done to help prevent fraudulent use of credit cards.
If you have any questions regarding the registration process, feel free to email them to me at .